COME JOIN THE TATEYAMA ANNUAL WAKASHIO MARATHON, last Sunday in January (REGISTRATION from SEPTEMBER 30 to OCTOBER 31).
Full marathon course, a 10-k course, and a 2-k family course.  Participants come from all across Japan, as well as from Tateyama's sister cities in the US and Australia, to enjoy the variety and beauty of the Wakashio course: the 6-km flower-lined coastal road, the inalnd hills and valleys, the views of Mt. Fuji floating above Tateyama Bay.  Local residents turn out to cheer the runners on.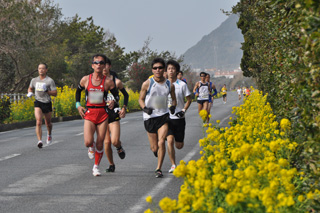 For more information, see http://www.tateyama-wakasio.jp/index.shtml, or contact Tourist Information.
For photos and results of last year's Marathon, see http://www.tateyama-wakasio.jp/record.html
TATEYAMA WAKASHIO 51.5 k TRIATHLON, June 27-28, 2015.  REGISTRATION from April 1 ~ April 30, 2015.   Get into the summer spirit  with Standard- and Sprint-courses and relays for men and women, aqua-thlons for elementary aged kids, and a challenge course for middle schoolers on up.  Coastal running and inland biking routes, swimming off of Okinoshima. Related events an lots of food and entertainment.   
For information in Japanese, see http://tate-tra.com/index.html.  For inquiries, contact:  info@deporte.jp.
OCEAN + FESTA TATEYAMA, weekend closest to June 13-14. TO PARTICIPATE, REGISTER BY MAY 10. 
Ocean and beach sports event for kids and adults, at Hojo Beach. Swimming races, stand-up paddle-board races, beach tug-of-wars, relay races, canoe races, beach sumo, lifesaving classes, run-swim-run courses, kids' sumo, etc. Group and individual registration. 

18TH ANNUAL TATEYAMA OPEN WATER SWIM RACE, July 19-21, 2015. REGISTRATION, APRIL 1 – May 28, 2015.  Welcoming swim-race participants from 1st graders through the over-75 crowd.  5-k on the 20th, and 3-k, 1-k, relays, and kids' OWS clinics on the 21st.  Rankings by age.  At Kagamiura (Mirror Bay).
For information in Japanese, see http://www.chibasf.org/2014/ows/18tateyamaows/18tateyamaows.htm. For inquiries, contact:  imai@wakomail.com.
SEA AND CITY FESTA/ AIR SELF-DEFENSE FORCE SUMMER FESTA, July 27, 10-15:00, at Minato Oasis, near Tateyama Station: Take a ride on sea kayaks, yachts, and helicopters, learn about the Coast Guard and tour the Naval base. For more information, see:
http://www.mod.go.jp/msdf/tateyama/item/umimachi/umimachi.htm