Last Sunday in January. REGISTRATION from SEPTEMBER  to OCTOBER .
Full marathon course, a 10-k course, and a 2-k family course.  Participants come from all across Japan, as well as from Tateyama's sister cities in the US and Australia, to enjoy the variety and beauty of the Wakashio course: the 6-km flower-lined coastal road, the inalnd hills and valleys, the views of Mt. Fuji floating above Tateyama Bay.  Local residents turn out to cheer the runners on.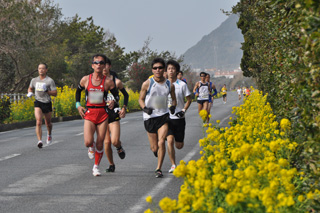 For more information, see http://www.tateyama-wakasio.jp/outline/, or contact Tourist Information.
For photos and results of last year's Marathon, http://www.tateyama-wakasio.jp/record/