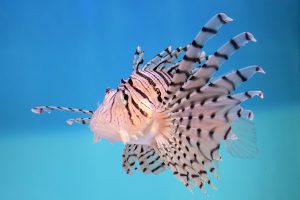 Nagisa no Eki Tateyama is an ocean front tourist facility that welcomes visitors from Japan and around the world. It houses the Seaside Plaza which exhibits large tanks of local fish, an observation deck that provides a splendid view of Tateyama Bay, a museum that introduces the maritime folk culture of the area, as well as Sakana-kun Gallery, a cruise ship terminal, a restaurant, a farmer's market and more.
Observation Deck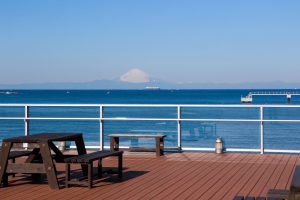 From the upper deck, visitors have a panoramic view of Tateyama Bay and the city of Tateyama, including the castle on Shiroyama Hill. Above all, you don't want to miss the sunset view, which Tateyama Bay is well known for. In mid May and mid July, it's posibble to see Diamond Fuji, the moment when the sun sets behind the peak of Mt. Fuji.
Tateyama Sunset Pier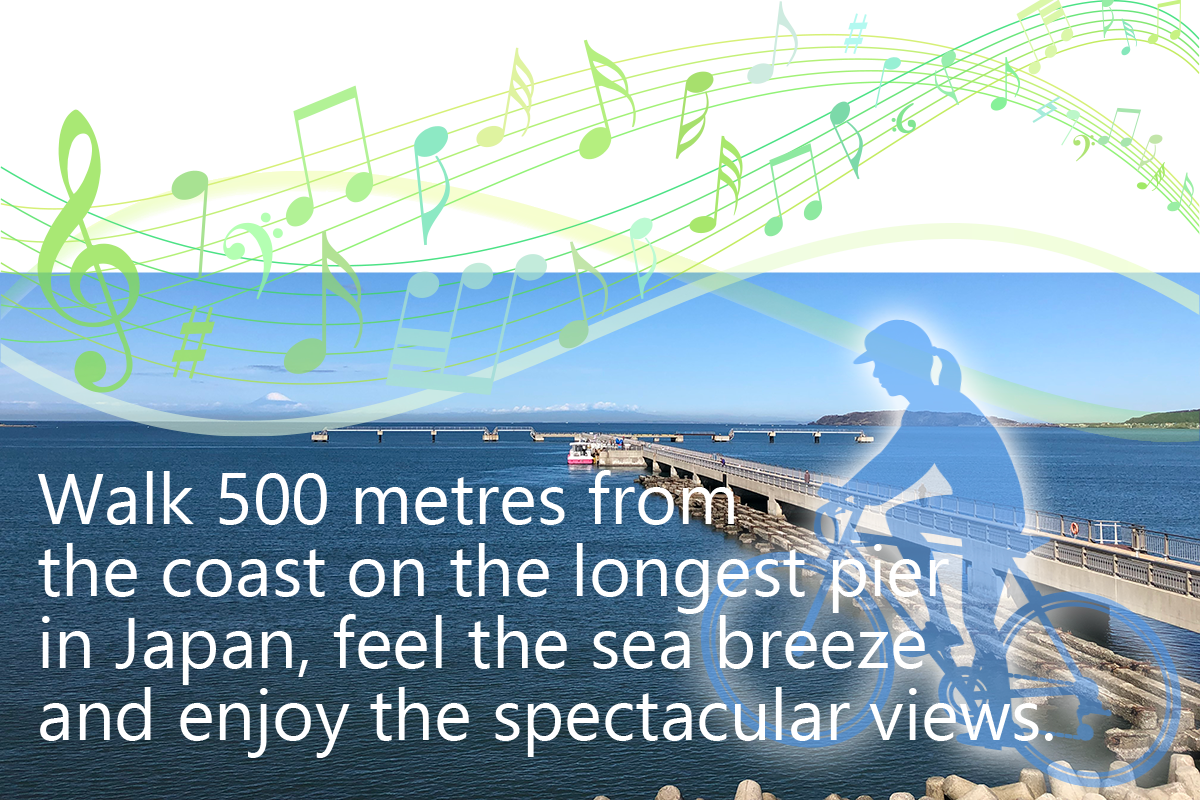 Completed in April 2010, this 500 metre long pier is home to cruise ships, high-speed jet boats, and glass-bottom pleasure boats.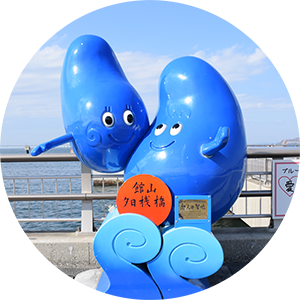 Blue Flame
Located in the middle of the pier, the Blue Flame sculpture is a symbol of the "umihotaru", a tiny sea creature found in Tateyama Bay that emits a blue light when they mate. This is one of the three Lovers' Spots in Tateyama.
"Umi no Marche Tateyama" & "Tateyama Nagisa Shokudo" restaurant
Umi no Marche Tateyama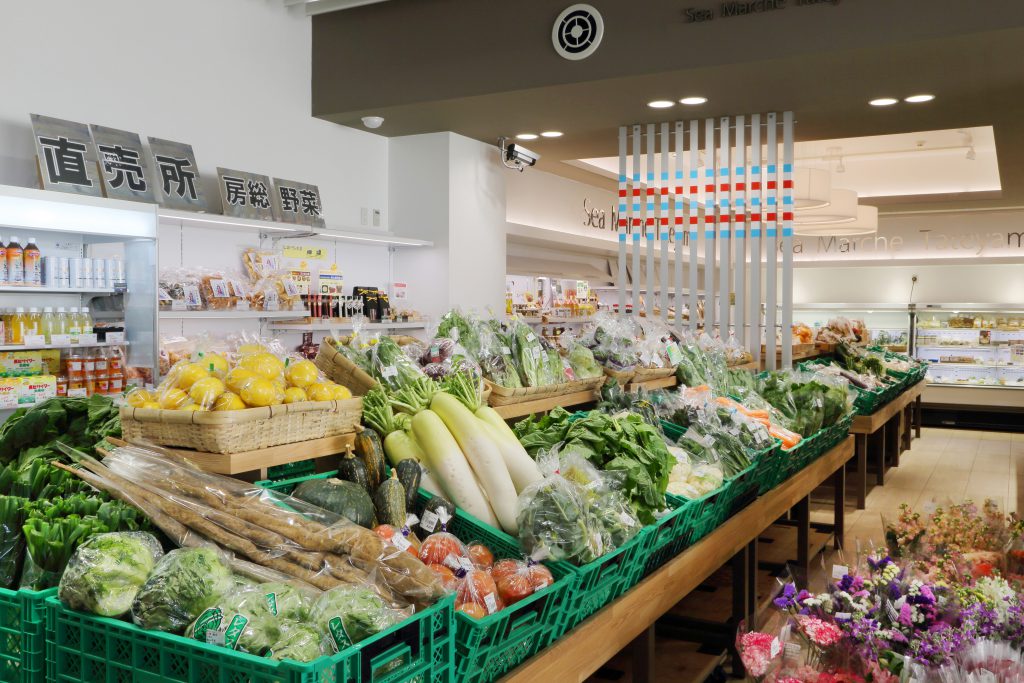 open daily
9:00-18:00
(may close temporarily)
​Umi no Marche Tateyama
0470-28-4926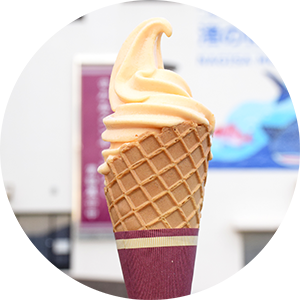 Biwa ice cream
¥380
The Minamiboso area, which includes Tateyama, is known as one of the biggest producers of biwa fruit (loquats), in Japan.
9:00-17:00
The stand is outside Umi no Marche Tateyama
Tateyama Nagisa Shokudo restaurant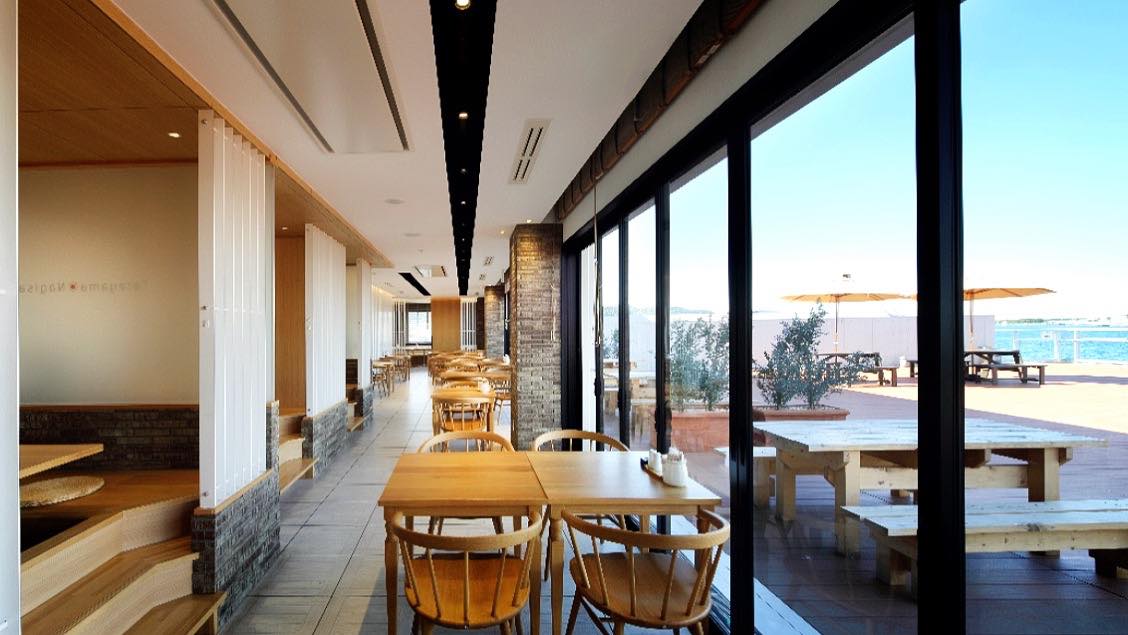 lunch :
11:00-14:30
(last order 14:30)
café :
14:00–17:00
(last order 16:30)
dinner : reservation only
Open daily *May close temporarily
Tateyama Nagisa Shokudo
0470-28-4927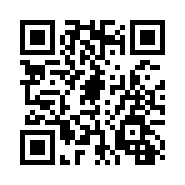 Nagisa Museum • Seaside Plaza
Nagisa Museum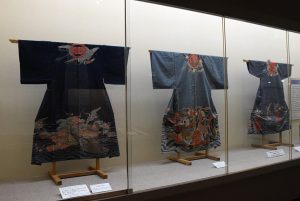 2,144 nationally designated cultural assets, including fisherman's celebratory jackets and fishing boats, are stored and exhibited here.
Click here for more info.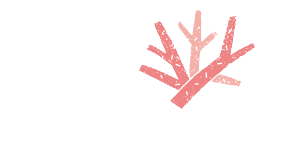 Sakana-kun Gallery and gift shop (Nagisa Museum 1F)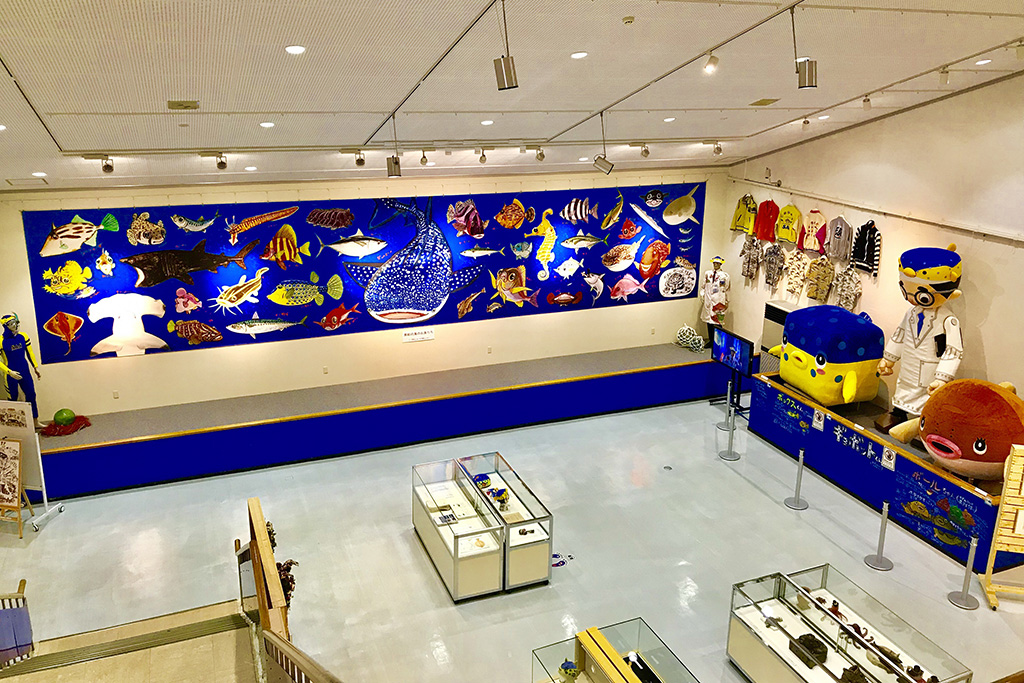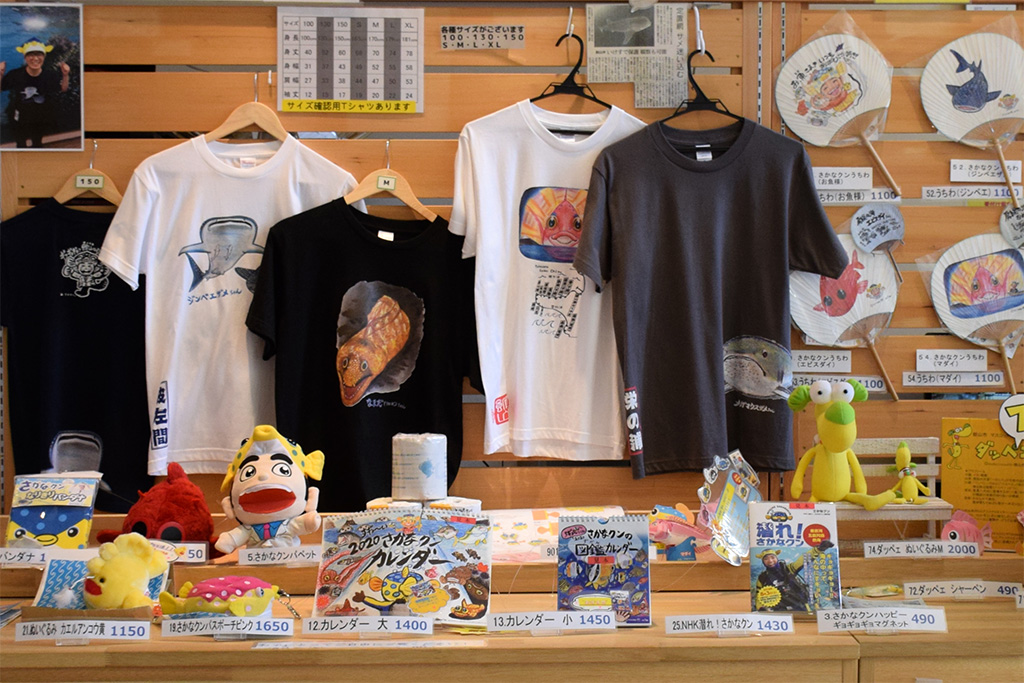 Sakana-kun is the honorable station master of Nagisa no Eki Station. The gallery and the shop exhibit and sell items related to his endeavors.
Seaside Plaza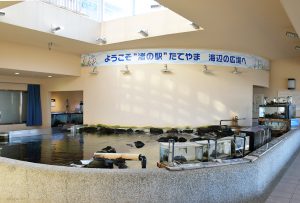 A space popular with young and old. You can see many sea creatures found in Tateyama Bay. Visitors can experience feeding the fish at 2:30pm.
Click here for more info.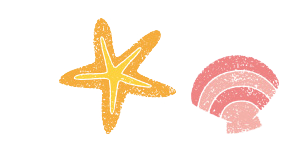 VR experience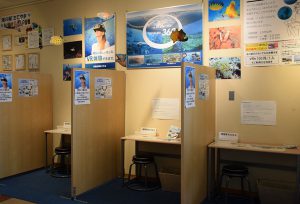 Enjoy a 360 degree view of Tateyama's sky and sea.
Adults ¥200 Children ¥100
Not for children under 7 years old, as their eyesight may be affected.
A guardians' permission is required for children aged 7 – 13.
Click here for more info.
Nagichari (rental bike)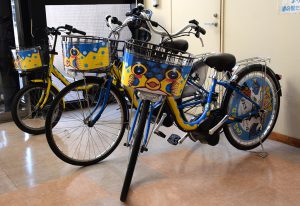 4 Hours ¥500, One day ¥1,000
An additional charge of ¥2,000 will be made when a bike is returned to a depot different from the point of origin.
Click here for more info.
Nagisa no Eki Tateyama
0470-22-3606
Parking
91 parking spaces for cars, 4 reserved parking spaces for people with disabilities, 4 spaces for coaches
There is a taxi stand, and a local bus stop
hours
9:00–16:45
May vary due to various reasons.
closed on
Nagisa Museum
New Year holidays, every last Monday of the month (or the next day if the Monday is a national holiday)
Seaside Plaza
New Year holidays, every last Monday of the month (or the next day if the Monday is a national holiday)
※Parking, outdoor bathrooms, and the observation deck are accessible regardless of the hours of opening stated above.
※Days where the facilities are closed may change as needs dictate.
address
1564-1 Tateyama, Tateyama City, Chiba
Website
Port Oasis Nagisa no Eki Tateyama
(Tateyama City official website)

WE ALSO RECOMMEND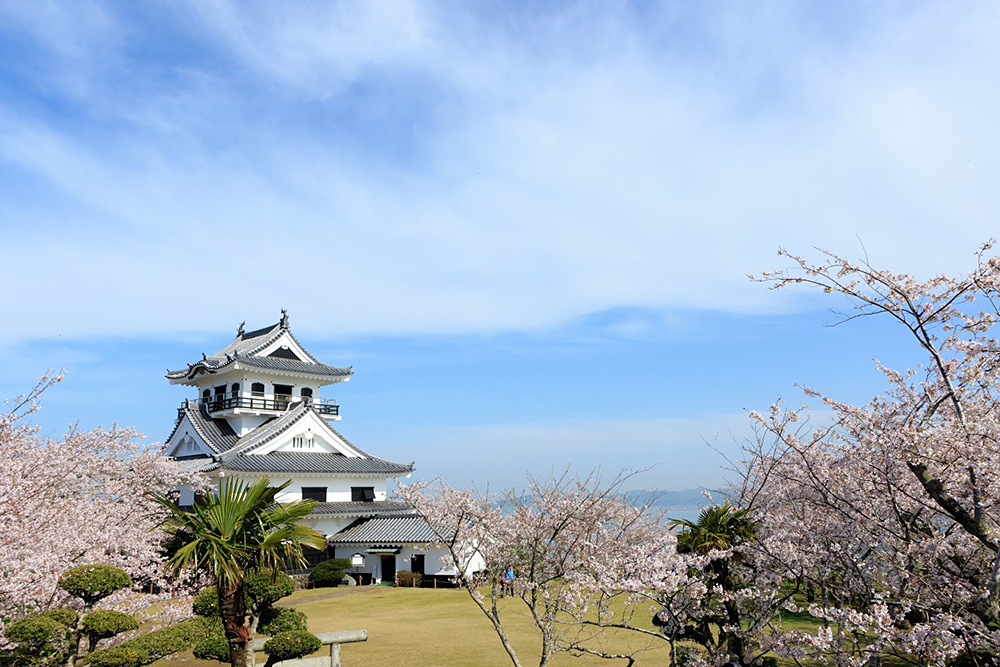 Shiroyama Park is located on the hill where Lord Satomi once built a castle on top in the 15th Century. Today, the park houses Tateyama City Museum, Tateyama Castle (inside is Hakkenden Museum), a tea house, a peacock aviary, a playground for children, and a lawn yard. Along the several trails are planted flowers of seasons, such as narcissuses, camellias, cherry blossoms, azaleas, and hydrangeas, just to name a few. In the early April, the park is bustled with locals and tourists for cherry blossom viewing. The panoramic view from the top include the whole city, Tateyama Bay, and Mt. Fuji occasionally.
Hours
Free parking is available 24 hours. Buses can be charged in high season.
Closed
Open daily
Address
351-2 Tateyama, Tateyama City, Chiba Prefecture 294-0036
Contact
+81470-22-3610 Tateyama City Hall City Planning Section
Hakkenden Museum (Tateyama Castle)
Open : 9:00am - 4:45pm (enter before 4:30pm)
Closed : on Monday (or the next day when Monday is a public holiday), 12/29 - 1/3
WE ALSO RECOMMEND