Heisaura:  a 5-km long stretch of sand on the southern tip of Boso Peninsula, facing the Pacific; great for all kinds of beach-goers, including families; famous breaks that are popular with surfers, kite-surfers. Can be windy.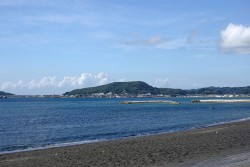 Hojo:  A 2-km beach on the calm, quiet waters of Mirror Bay, facing Mt. Fuji. Very popular in summertime. Right near the train station, convenience stores, etc.; 300 free parking spots; 2 showers; changing rooms; toilets.
Windsurfing all year.
Good for families.
Hasama Beach: clear, shallow waters; rocks to play on; pool nearby at Kyukeimura for children; parking (for a fee), two changing sheds, two toilets; day spa at Kyukeimura.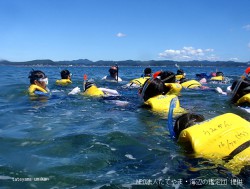 Okinoshima:  Snorkeling, incredibly clear waters, shallow a long way out and no waves, lots of fish among the rocks.  Parking nearby, toilets, no showers.  No lifeguards.  Some fishermen.  Bring shoes.
See Okinoshima page for more details.
Mera Beach: Suitable for walking the cove-shaped beach and enjoying the views, NOT for swimming; unpredictable swells and dangerous reef.