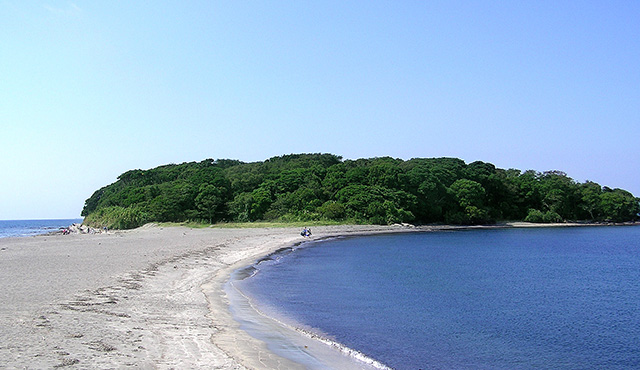 Tateyama's most famous beach is  a 200-meter long sandbar that connects the mainland with a secret treasure — the small, uninhabited island called Okinoshima.
Less than a century ago, Okinoshima really was an island floating at the edge of the Bay. The sandbar first emerged with the upheavals of the 1923 Great Kanto Earthquake. Eventually it became a permanent feature of the landscape: the far tip of Mirror Bay.
The entryway to the sandbar from the road isn't especially alluring (every government agency seems to have erected its own sign spelling out the rules of the beach). But don't be put off. Walk right past them and look out towards Okinoshima or the water on either side of you.
People love the sandbar for all the wondrous shells that wash in with the tides.  And let yourself be enticed by the jungly island waiting there at the end of that length of sand.
You'll be stepping into a secret world. You'll find layers of geological time you can literally touch, with dense overgrowths of native vegetation in every hue of green. Beyond, in the offing, at only 5 meters deep, lies an underwater wilderness, the world's northernmost coral reefs, nurtured by the warm waters of the Kuroshio Current that washes along Tateyama's western end.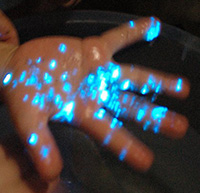 Spend an evening looking for 
sea fireflies
. Sea fireflies are just what they sound like: nocturnal sea creatures  no bigger  than a grain of rice with a flickering marine-blue luminescence.
Like their namesake, they've gradually been lost to environmental pollution and urban illumination.  But you'll find them in the waters off Okinoshima, right there, at the edge of Tokyo Bay.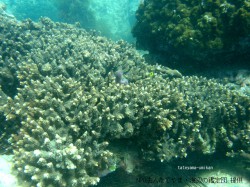 THe waters are clean, shallow, and gentle at Okinoshima, so the snorkeling is inviting and the views of the coral are extraordinary. Join a guided tour, or participate in some of the shore cleanup and conservation projects run by the Coral Monitoring Association of Okinoshima.
Japanese link:
http://www.umikan.jp/program.html