The Festival
August 8, ~7:30-8:45 p.m., Hojo Beach near Tateyama Station. (Rain date:  August 9 or August 10)
10,000 fireworks, in almost as many variations and combinations, fill the sky in a "starmine"-style continuous display. The lapping waves of Mirror Bay catch their reflection, and their echoes play across the surrounding mountains. Local groups doing every kind of music and dance and flamenco dancers from across Japan perform all along the beach against the sparkling background.
Best Viewing Spots
Hojo Beach itself, for the boom of the fireworks and the showers of sparks, the dancers filling the beach, and the oohing, aahing crowds.
The pleasant grounds of Shiroyama Park, the hilltop castle park with unbeatable views across the water and right into the fireworks themselves.
Takanoshima and Okinoshima, two jungly uninhabited islands connected by a sandbar to the mainland, where you can find a favorite rock from which to gaze at the sky-and-water spectacle.
Behind the Scenes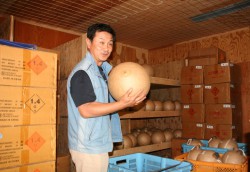 6th -and 7th-generation fireworks makers and Tateyama locals, Jiro and Ichiro Fukuyama, produce the hanabi by hand: they start with a little bean, paint it with chemicals and dye, dry it, coat and dry it again, and again, till after about 3 months it's the size of a pachinko ball.  For red crackers, they paint it red; for blue, blue; for the famously elaborate hanabi that change color up there in the sky, first red, then blue.
The best season for making the shells is winter, when it's dry.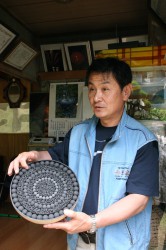 The completed shells are then packed one by one in casings with breaking powder, in layers or patterns that depend on the desired burst.  Chrysanthemums, peonies, Mickey mouse.A single explosive might take a full day to assemble.
Matsuri festivals rely mostly on tiny communities for support.  But everyone in Tateyama contributes his bit to the August Fireworks Fest. In 2011, at the 48th annual, 423,152 yen was raised for 2012.
What to do between times
The Fireworks Fest comes at the height of beach season, overlaps with Tateyama's vaunted flamenco tournament, barely has time to recover from or for the cascade of local festivals that take place from mid-July through mid-August. It's the perfect time to plan a week's holiday and take it all in.
Access
Hojo Beach is a few minutes' walk from Tateyama Station. See town map for directions to Okinoshima and Shiroyama Park.